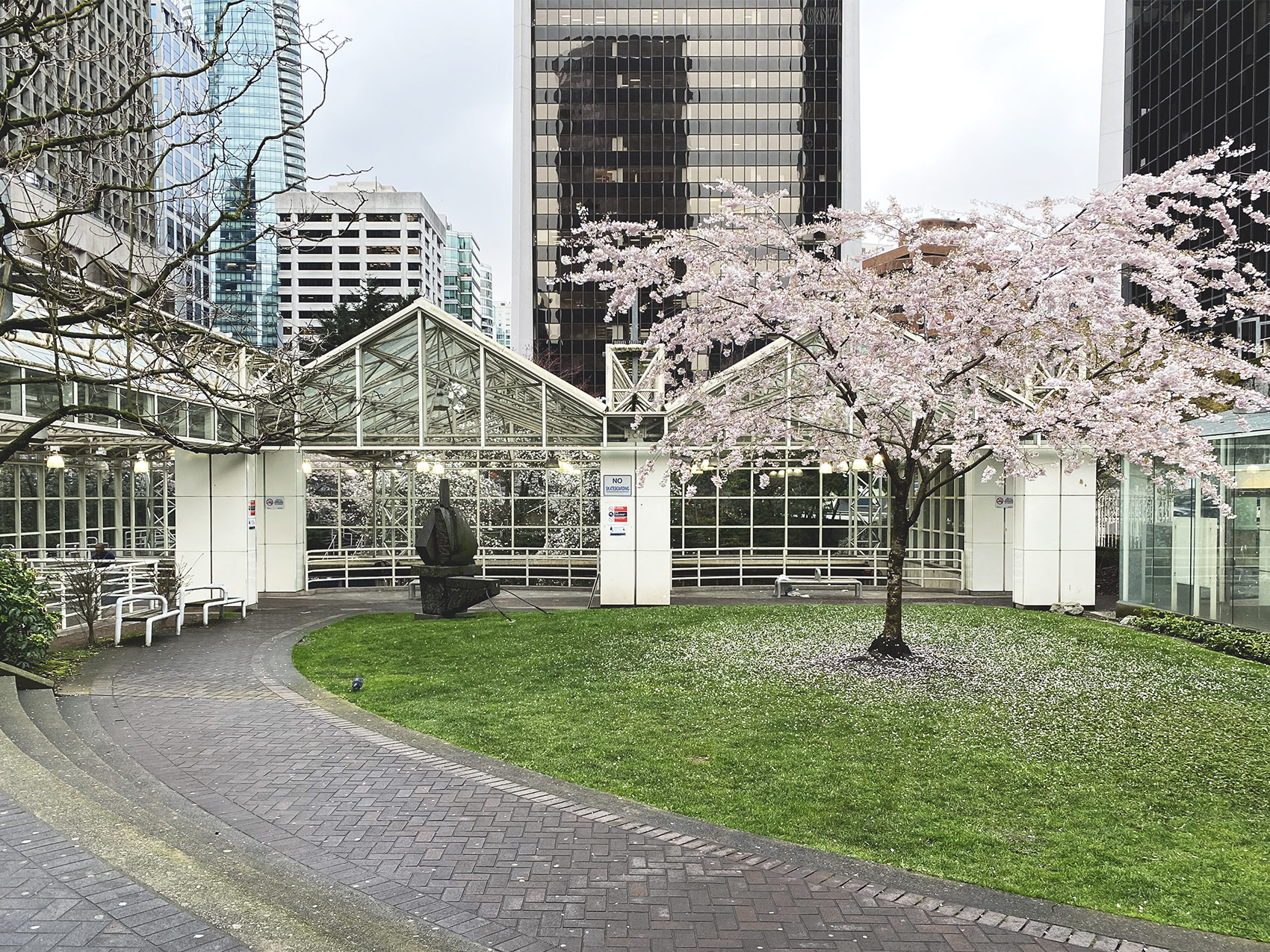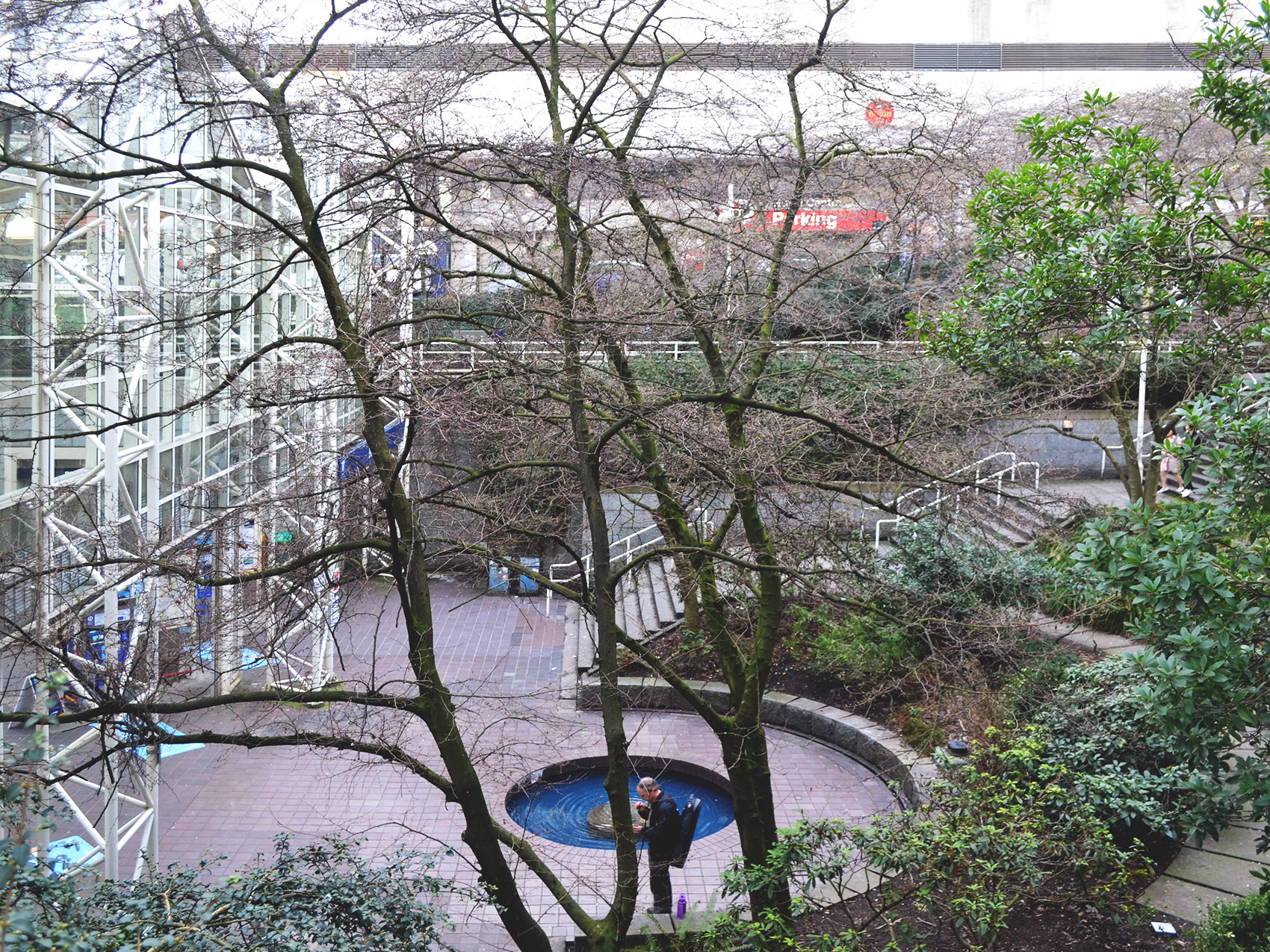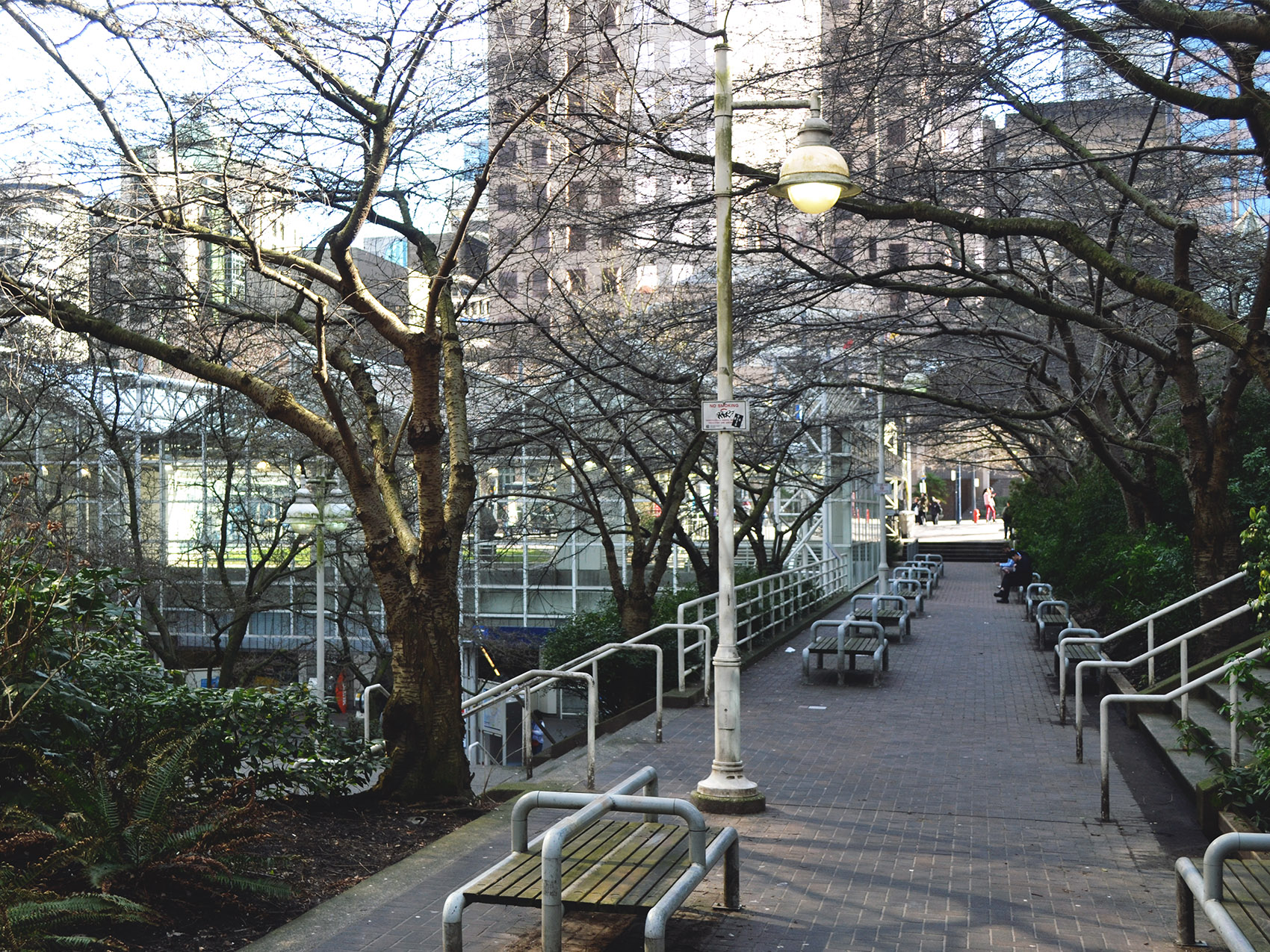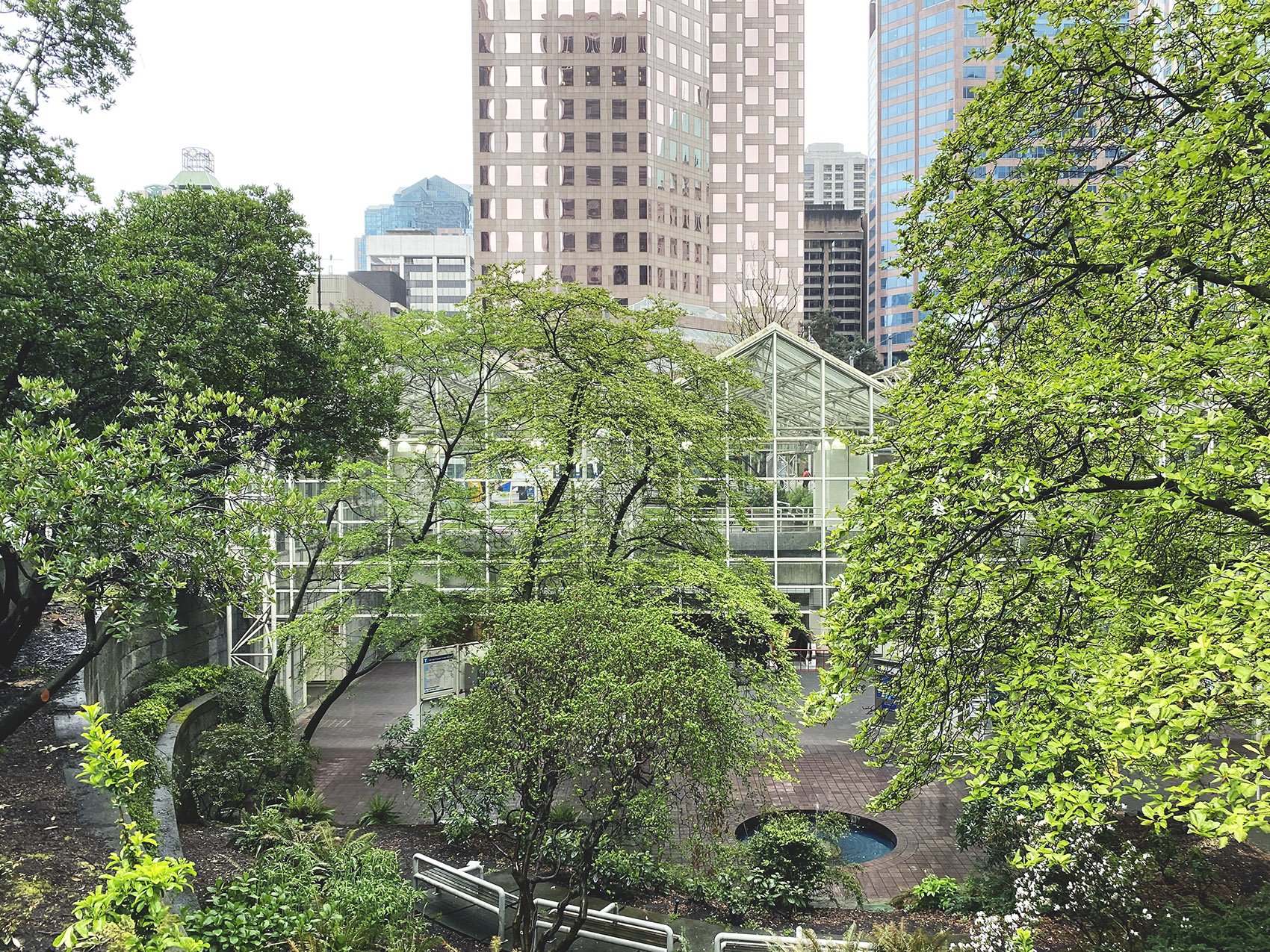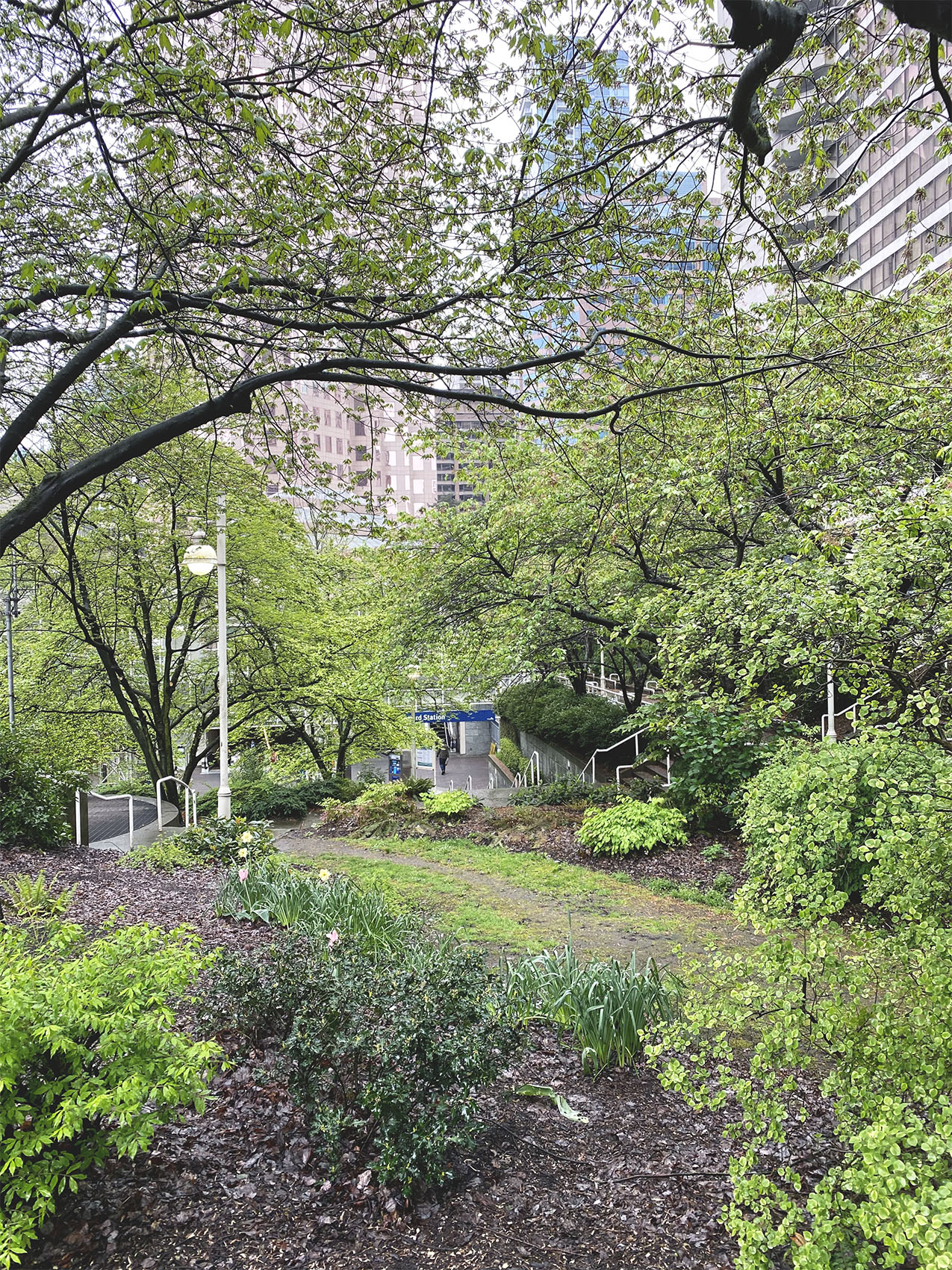 Burrard ALRT Station/ Art Phillips Park, 1985/ 2021
Constructed 1985/ 2021
Location Vancouver, BC
Architect
Alan Hart (Allen Parker and Associates), 1985
Architektengruppen U-Bahn, 1985
VIA Architecture, 2021–
Landscape Architect
Don Vaughan (Don Vaughan & Associates), 1985
Use Public Park; Public Transit Station
Recognition
American Society of Landscape Architects International Award (1990)
The Burrard ALRT Station, one of Metro Vancouver's most frequented public transit stations, sits on a densely planted triangular site at the intersections of Burrard, Dunsmuir, and Melville Streets in downtown Vancouver. Completed in 1985 as part of the original Skytrain ALRT system (opening ahead of the Expo '86 World Exposition on Transportation and Communication), Burrard Station was designed by architect Alan Hart with landscape architect Don Vaughan. Constructed on the site of Art Phillips Park, a dedicated public space under the purview of the Vancouver Park Board, the station functions as both a transit hub and a public park boasting over 7.6 million annual boardings in 2019, as well as being a local anthophile attraction for springtime Cherry Blossoms planted throughout the grounds.
Originally selected through competition, Don Vaughan envisaged a design intervention that would reorient subway passengers during what can often be a disorienting underground experience. He proposed that the lower level of the transit station open up to the surrounding park. Together with architect Alan Hart (Allen Parker & Associates, the designers of the original stations along the Expo Line), the pair conceived an architecture and landscape that would give the illusion of being carved out of the earth on which it is nestled. Viewed from the street, the station presents a series of glass gable roofs, inspired by Victorian-era British train stations, while Art Phillips Park, heavily planted with Cherry Blossom trees and Douglas Firs, is terraced down into the main level of the passenger promenade.
In early 2022, the station is scheduled to close for approximately 2 years to undergo major facility upgrades to the architecture and surrounding plazas.