Filberg House, 1959
Filberg House, 1959
Comox, Vancouver Island, BC
Designed by Arthur Erickson
AIBC Special Jury Award for Architectural Renovation, 2002
Featured in Canadian Homes, 1961
Featured in The Canadian Architect 5, No. 12, December 1960
In the News
Last update October 27, 2020
'The Most Fabulous House in Canada'
The Filberg House was designed by Arthur Erickson in 1958 and completed in 1959. What was to be a home and an international cultural retreat, was originally commissioned by local Robert M. Filberg, son of the Comox Logging and Railway Company tycoon, Robert J. Filberg. It was one of Erickson's earlier and larger residential works, and his most significant and widely published commission, at the time. It has been hailed as "the most fabulous house in Canada," an accolade awarded to it in the 1961 issue of Canadian Homes magazine, and for good reason.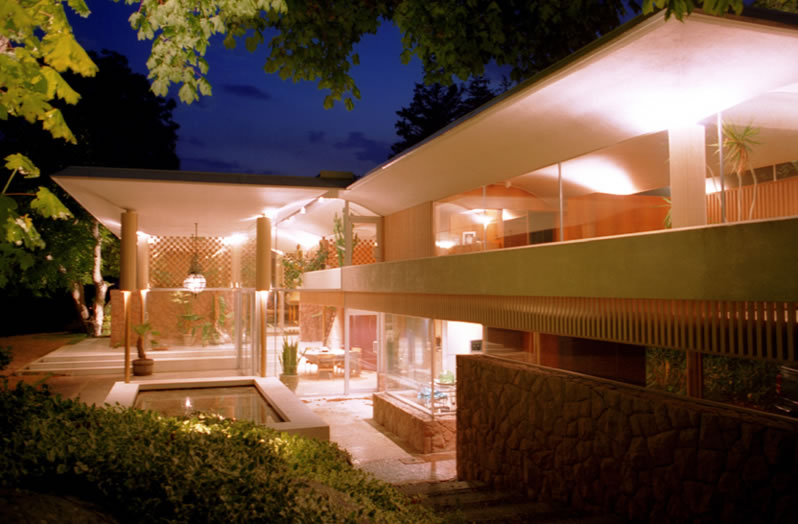 Situated high atop a seaside bluff surrounded by forest and meadow, glacial peaks, and wondrous southern vistas over the Strait of Georgia, the work is considered by many to be among the most perfect modernist marriages between constructed landscape, architecture, and its surroundings in British Columbia. This adept integration and refocusing on the landscape, evident across Erickson's vast body of work since, formed the basis of his intentions with the Filberg House, as Erickson stated "the design was really based on a pavilion looking at the landscape, where all the aspects–the cliff edge, the distant glaciers, the sweeping brown fields and the immediate forest, could be seen at once." Sitting at the edge of an inland sea, a decidedly Mediterranean characteristic in Erickson's mind (who was an enthusiastic international traveller), and often seated under dull coastal skies, luminosity was also a driving force in a design that carries overtones of Andalusian Islamic architecture. Undulated ceilings, translucent panels, screens, and reflective floor surfaces, among others, provide for a play of light which radiates throughout the interior spaces even on the darkest days. Apart from its place as one of Erickson's greatest residential designs, the Filberg House is a unique and unparalleled example of West Coast Modernism, exuberating new heights of creativity and elegance in mid-century modern residential design on Canada's west coast.
Despite its stature, the Filberg House has seen a tumultuous history. First, was the sudden passing of the original owner prior to its completion, followed decades later by an unfortunate renovation that rendered much of the architecture unrecognizable, and then the heartfelt and painstaking restoration back to Erickson's original modernist vision by a neighbour turned subsequent owner. If not for the latter interest and care in reviving the original design, this icon of West Coast Modernism may have been lost forever. It is the story of an iconic house whose architecture and surrounding grounds have not benefited from any level of historical protection, but should. While there is no current cause for concern, the house has recently been in the news due to a change of ownership. It is, therefore, worth reiterating that the significance and legacy of Erickson's Filberg House, on the historical and cultural milieu of modern architecture and Canada's west coast, cannot be overstated. Its continued care is paramount.