Arthur Erickson: An Architect's Life
"An intimate portrait of the brilliant and controversial architect who put Canada on the world stage.
Arthur Erickson, Canada's pre-eminent philosopher-architect, was renowned for his innovative approach to landscape, his genius for spatial composition and his epic vision of architecture for people.
Erickson worked chiefly in concrete, which he called "the marble of our times," and wherever they appear, his buildings move the spirit with their poetic freshness and their mission to inspire. Travel was key to Erickson's creative process: floating high above the clouds on extended flights, he made the preliminary drawings for the spectacular, large-scale works that would be built in various parts of Canada — Toronto's Roy Thomson Hall, Vancouver's Simon Fraser University — and around the world.
But he was also a controversial figure, more than once attracting the ire of his fellow architects, and leading a complicated personal life that resulted in a series of bankruptcies. In a fall from grace that recalls a Greek tragedy, Canada's great architect — a handsome, elegant man who lived like a millionaire and counted among his close friends Pierre Trudeau and Elizabeth Taylor — eventually became penniless.
This first full biography of Erickson, who died in 2009 at the age of 84, traces his life from its modest origins to his emergence on the world stage. Grounded in interviews with Erickson and his family, friends and clients, Arthur Erickson is both an intimate portrait of the man and a stirring account of how he made his buildings work. Brilliantly written and superbly researched, it is also a provocative look at the phenomenon of cultural heroes and the nature of what we call "genius." – Douglas & McIntyre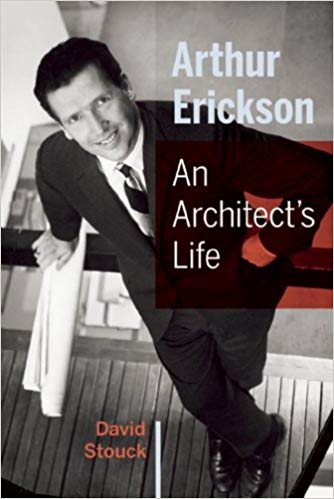 Arthur Erickson: An Architect's Life
By David Stouck
Publish Date: September 6, 2013
ISBN-10: 1771000112
ISBN-13: 978-1771000116
Purchase: Douglas & McIntyre or Amazon.