For the past 16 years, modernist homeowners in West Vancouver have opened their doors to architectural enthusiasts, and the general public alike, for the annual West Coast Modern Home Tour, organized by the West Vancouver Art Museum. With the popularity of the home tour, and the growing interest in our West Coast Modernist history, 2022 will mark the inaugural year of an expanded range of programming all encompassing West Coast Modern Week!
West Coast Modern Week is a "celebration of West Coast Modernism, a distinct architectural style with deep roots in West Vancouver, from July 5 to 10. Surrounded by forested mountains, an expansive ocean, and a lush rainforest, this natural setting presents unique challenges and opportunities that are reflected in the local architecture. Presented by the West Vancouver Art Museum, West Coast Modern Week's events include talks, exhibitions, parties, and a unique Home Tour offering access to local, architecturally-significant homes.
Festival Information
West Coast Modern Week Events
TUES JULY 5 | West Coast Modernism in Context | The League is thrilled to present an in-person panel discussion with eminent designers David Battersby, Lisa Bovell, Joseph Fry, Paul Merrick, and Peeroj Thakre, who will critically contextualize the relationship between mid-century West Coast Modernism and contemporary architecture and design practices. Is West Coast Modernism indicative of a period that has come and gone or is it a design ethos whose values continue to endure in contemporary design and lifestyles today? Presented by the West Coast Modern League with the West Vancouver Art Museum and The Polygon Gallery.
West Coast Modernism in Context | Register Here
WED JULY 6 | Outside In: Explore the Forgotten Connections Between Nature and Home | Outside In examines the hard science behind a movement of healthy home design called biophilia, which suggests that building healthier homes can affect positive changes to our blood pressure, heart rate and stress hormones. The film features interviews with renowned architects about the future of biophilic design, introduces viewers to homeowners experimenting with biophilic principles, and showcases Jennell Stanley, interior designer and mother, and her process in building a biophilic home from the ground up, focusing on the health of her young family. This film will be preceded by a preview of the homes featured in this year's West Coast Modern Home Tour.
THURS JULY 7 | Cocktail Party at a Private Modern Home | Celebrate West Coast Modern Week and the 16th annual West Coast Modern Home Tour with a cocktail party at a private West Vancouver modern home, designed by BattersbyHowat Architects.
FRI JULY 8 | "The B.C. Idiom" Revisited: Contemporary Domestic Architecture in the Age of Upheaval | The inaugural Barry Downs Architecture Lecture will feature Dr. Michael Prokopow, a cultural historian and curator, who has written widely about material life, aesthetics and the work of decolonizing the study of modernism, and he is currently working on a project on middle class taste in North America between 1940 and 1975. Past curatorial projects have included multiple exhibitions and installations, such as True Nordic: How Scandinavia Influenced Design in Canada, and the Design Exchange, Canada's only museum of 20th-century industrial design. In 2022, Dr. Prokopow will be releasing his new book, Responses: Recent and Contemporary Domestic Architecture in British Columbia.
SAT JULY 9 | West Coast Modern Home Tour | Since 2006, the West Vancouver Art Museum has been offering the popular annual mid-century and contemporary West Coast Modern Home Tour. Private access allows you to explore spectacular mid-century and contemporary West Coast modern homes, perched on the rocky slopes of West Vancouver. This year's tour homes include Bonetti House II (Battersby Howat Architects, 2021), Case House (Ron Thom, 1965), Merrick House (Paul Merrick Architect, 1972), Smith House II (Arthur Erickson and Geoffrey Massey, 1966. Various renovations by Russell Hollingsworth, 1982-1990, and Measured Architects, 2021–2022), and Sorrentino House (Fulvio Sorrentino, c. 1970s).
SUN JULY 10 | West Coast Jazz with the Cory Weeds Sextet | Tenor saxophonist and jazz impresario Cory Weeds puts together an all-star multi-generational sextet to celebrate West Coast Jazz! Weeds will be joined by pianist Sharon Minemoto and award-winning trumpeter Brad Turner, seasoned veterans of the Vancouver Jazz scene. Rounding out the sextet is a trio of phenomenally talented youngsters: bassist John Lee has just released his debut CD as a leader called The Artist; vibraphonist Atley King, a product of Capilano University, is one of the country's most promising up and coming musicians; and drummer Graham Villette from Vancouver Island is making more and more appearances here in Vancouver and it's not surprising why.
JUNE 8 – JULY 23 | A Twist of the Rules: The Architecture of Paul Merrick | Coinciding with West Coast Modern Week, the West Vancouver Art Museum is currently exhibiting a restrospective of architect Paul Merrick's work, including the celebrated Merrick House (on tour this year). A resident of West Vancouver for six decades, architect Paul Merrick has had a significant hand in shaping the skylines of West Vancouver, Vancouver, Victoria, and far beyond. He studied architecture at UBC and worked initially with Ron Thom at Thompson, Berwick and Pratt. Becoming Practice Chair there, he designed significant residential and commercial projects, such as Cathedral Place, in Vancouver. He went on to co-found his own practice, Paul Merrick Architects—now known as Merrick Architecture–Borowski Sakumoto McIntyre and Webb—in 1984. Over the course of his career, he contributed to the early plans for the development of False Creek, as well as overseeing the design of City Square, the renovations of the Orpheum Theatre and the West Vancouver Memorial Library, and the retro-fitting of the Marine and the BC Hydro Electra Buildings. His residential projects include the notable Killey residence in Vancouver and his own residence in the Eagle Harbour neighborhood of West Vancouver. Built in 1973, this latter house is an extraordinary feat of wood and glass, nestled in the forest, and frequently classified as "carpenter Gothic." This exhibition showcases 12 of Merrick's most important projects spanning his career of 60-plus years, exploring his design hallmarks and granting insight into his process.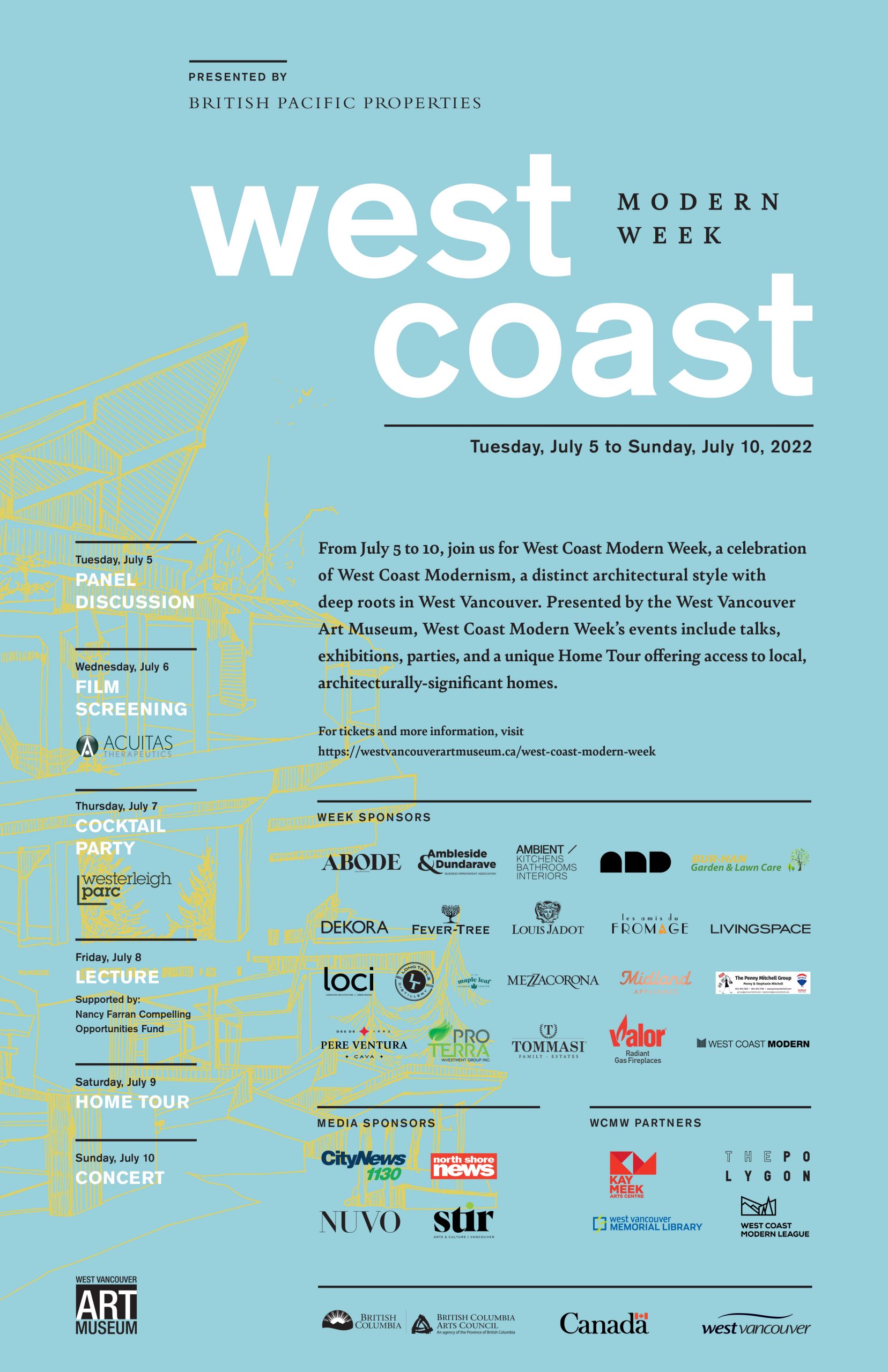 West Vancouver Art Museum
The West Vancouver Art Museum is operated by the District of West Vancouver. The Art Museum fosters awareness and understanding of art, architecture and design through its collection, publications, exhibitions and educational programs. The art museum highlights important creators, innovators and significant events that shape the community, region and country.
Festival Details
West Coast Modern Week
July 5, 2022 – July 10, 2022
West Vancouver Art Museum