West Coast Modernism in Context – 2022.07.05
July 5, 2022 from 7:00pm–9:00pm PDT
Reception + Panel Discussion
Presented by the West Coast Modern League
In partnership with the West Vancouver Art Museum and
The Polygon Gallery, Seaspan Pavilion
101 Carrie Cates Ct., North Vancouver, BC
RECEPTION WILL INCLUDE CASH BAR & CHARCUTERIE
A TWIST OF THE RULES: THE ARCHITECTURE OF PAUL MERRICK WILL BE AVAILABLE FOR PURCHASE
REGISTRATION REQUIRED. Suggested $10 Donation.
In-Person Event. Open to the Public.
REGISTER HERE
On July 5th, we invite you to join the West Coast Modern League, with the West Vancouver Art Museum and The Polygon Gallery, for a conversation with eminent designers David Battersby, Lisa Bovell, Joseph Fry, Paul Merrick, and Peeroj Thakre, moderated by Chelsea Grant, who will critically contextualize the relationship between midcentury West Coast Modernism and contemporary architecture and design practices.
For the better part of a century, West Coast Modernism has played a seminal role in shaping the culture of modern architecture and design on the south coast of British Columbia. The 1941 B.C. Binning House, recognized as the first modern house in Vancouver, was designed at a time when the ideas of international modernism were being embraced on the west coast, while local designers experimented with evolving these ideals to be more reflective of our region's unique conditions. The circumstances under which we design and build today are vastly different from those faced by the pioneering vanguard of West Coast Modernism, with seismic shifts in technological, social, and climatic conditions, among others. So, we ask, is West Coast Modernism indicative of a period that has come and gone or is it a design ethos whose values continue to endure in contemporary design and lifestyles today?
This event is presented as part of this year's inaugural West Coast Modern Week, organized by the West Vancouver Art Museum.
---
Meet the Panelists
Meet the Moderator
---
For Comments & Inquiries:
Please email wcmleague@gmail.com
Follow us:
Instagram / Facebook / Twitter
In the News:
The West Coast Modern League gratefully acknowledges the partnership and generous support of the West Vancouver Art Museum and The Polygon Gallery.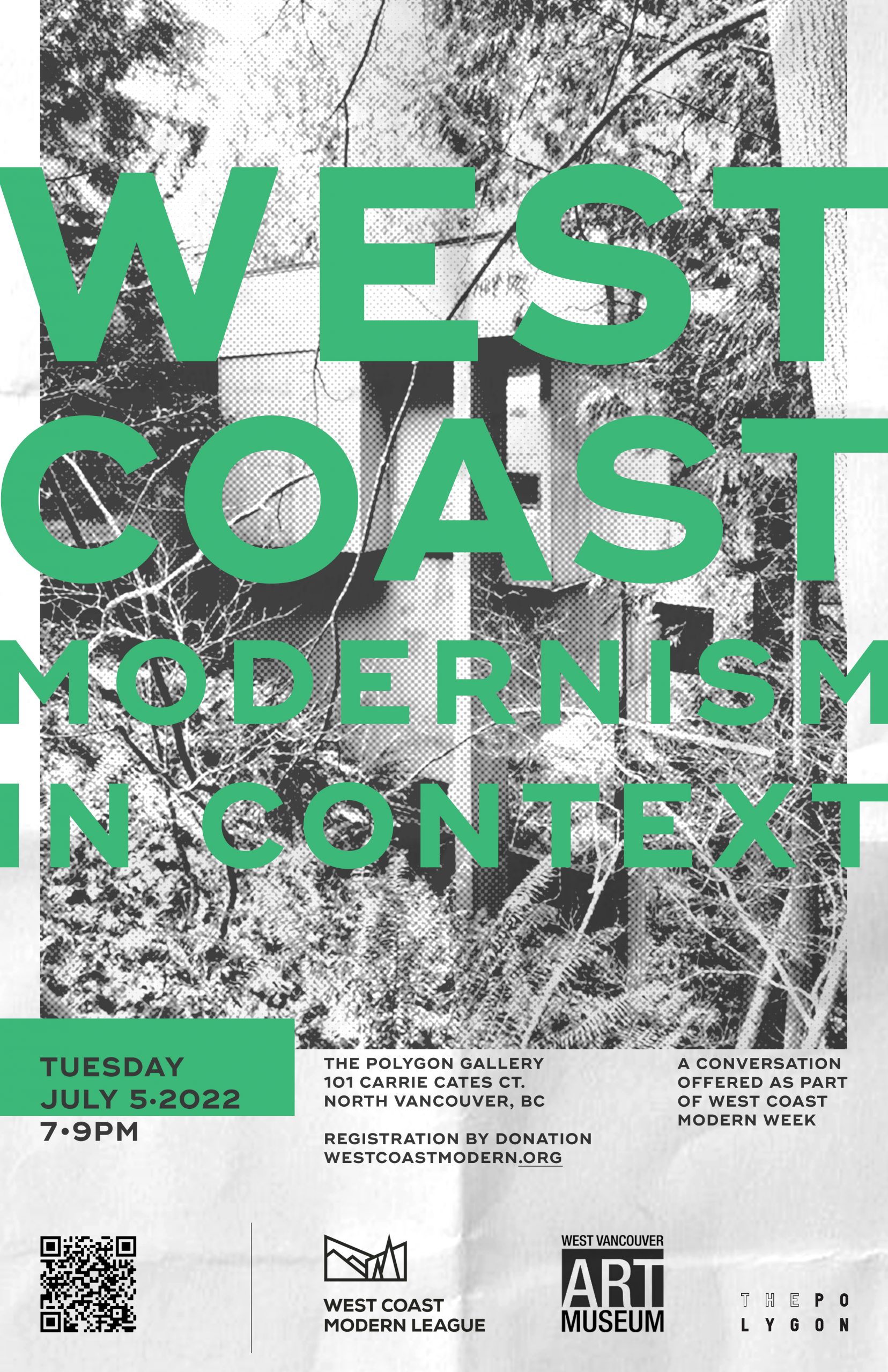 ---
About West Coast Modern Week
West Coast Modern Week
From July 5 to 10, 2022, West Coast Modern Week offers many opportunities to learn about West Coast Modernism, an architectural style with deep roots in West Vancouver. Perched between forested mountains and expansive ocean, in a rainforest climate, West Vancouver's natural setting presented unique challenges and opportunities that came to be reflected in the local architecture. Presented by the West Vancouver Art Museum with its partners and sponsors, West Coast Modern Week's events include talks, exhibitions, parties, and a Home Tour showcasing local, architecturally-significant homes. For other West Coast Modern Week events, please visit: