John Di Castri is Victoria's most widely recognized and celebrated mid-century architect and his life and work are the focus of our new feature exhibit, John Di Castri, Architect: A Retrospective (1924-2005). Drawing on the framework of a previous exhibit first shown during the architect's lifetime, John Di Castri, Architect has now been updated with original artwork, plus new photography and text for this special viewing. Seven scale models of some key residential and institutional buildings also enrich the multi-faceted exhibit.
 
ABOUT THE ARCHITECT
Born in Victoria, where he remained all of his working life, John Di Castri's career was uniquely local. His passion for art and creativity spanned multiple genres including music, drawing, painting and writing. But it was architecture that ultimately drew his full attention and inspired him to seek instruction from one of North America's most innovative "organic school" architects, Bruce Goff, under whom he trained at the University of Oklahoma from 1949-51. Returning to Victoria he then went on to design hundreds of buildings for his home city, many of which remain today as treasured monuments to a unique cultural moment and to the architect's community vision and creative genius. 
Notable projects designed by Di Castri range through an array of institutional and commercial structures, such as the Cornett and Student Union Buildings at UVic and the Mosaic Building on Fort Street, to his ground-breaking signature residences. For the latter, he would often establish a theme from nature: a diamond (the breakthrough Trend House on Richmond Road, 1954), botanical intersecting curves (Smith House, 1952) or a spiral seashell (the water-front Dunsmuir residence, 1953). Sensitive placement in the landscape – a key feature of organic architecture – also defined Di Castri's residential designs. This can be seen in the Watts residence (1953/5), which appears to hover above its granite bluff, or Windsor Uttley's "Castle" (1967), which nestles into the coniferous woodland of Saltspring Island's foreshore.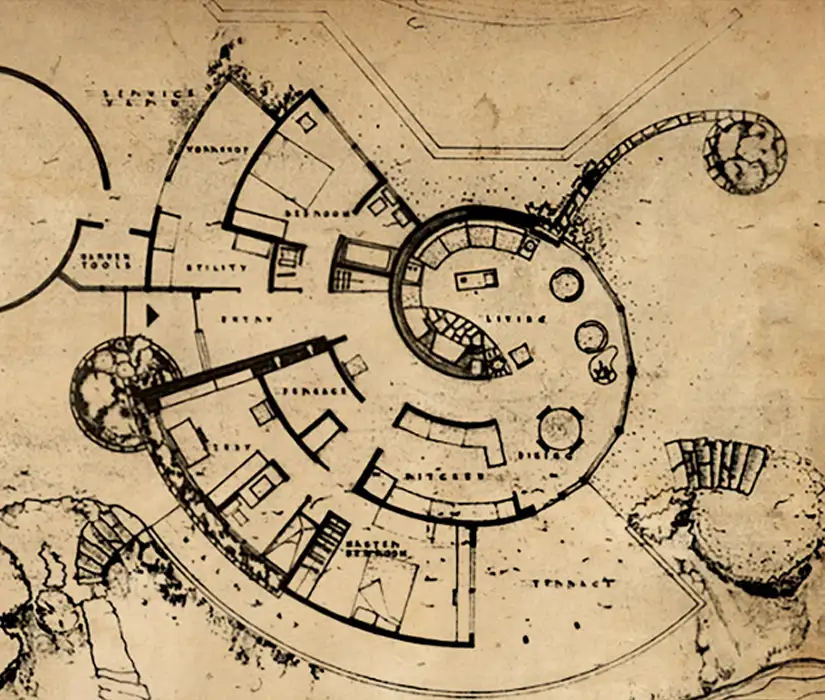 Exhibition Details
John Di Castri: A Retrospective (1924-2005)
June 16 – September 8, 2023
Wentworth Villa
1156 Fort Street
Victoria, BC