Restomodern – 2023.07.05
July 5, 2023 from 7:00pm–9:00pm
Reception + Panel Discussion
The Polygon Gallery, 101 Carrie Cates Ct., North Vancouver
Reception at 7:00pm | Presentation at 8:00pm
Presented by the West Coast Modern League
In Partnership with the West Vancouver Art Museum and The Polygon Gallery
Tickets required with suggested $20 donation
GET YOUR TICKETS
Please join us for RESTOMODERN, a conversation with leading local designers engaged in sensitive and innovative architectural RESTOMODS to significant modern houses.
RESTOMOD – Originating from the classic car world, the term refers to the restoration of a classic car that seeks to maintain the original aesthetic character and design qualities of the vehicle, while improving performance by utilizing contemporary technology and systems that may not have originally been available.
Renovation is a part of the natural life cycle of any building, and as times change, so too do the materials, building technologies, and standards of living. But how do you approach a renovation when the building is an important part of our modern architectural history? What, if anything, is precious to the original "classic?" What modifications should we make to usher this architecture into the 21st century? How, among other things, do we uphold our regional expression of modernism while improving for healthier, more environmentally conscious spaces?
 On July 5th, we invite you to join the West Coast Modern League for a conversation critically exploring the architectural interpretation of the RESTOMOD. Joined by renowned local designers Sophie Burke (Sophie Burke Design), Fook Weng Chan (FWC Architecture), and Mark Ritchie (Architecture Building Culture), and moderated by Chelsea Louise Grant (WCML + euoi studio), each engaged in sensitive and innovative renovations to significant modern houses in the region, this discussion will probe varied and divergent approaches used in the act of restoring our modern architectural history while modifying to contemporary technologies and standards of living.
The Panelists
This event is presented as part of West Coast Modern Week 2023, organized by the West Vancouver Art Museum. 
---
Meet the Panelists
Meet the Moderator
---
Inquiries:
Please email wcmleague@gmail.com
Follow us:
Instagram / Facebook / Twitter
In the News:
The West Coast Modern League gratefully acknowledges the partnership of the West Vancouver Art Museum and The Polygon Gallery, and the generous support of event sponsor Acuitas Therapeutics.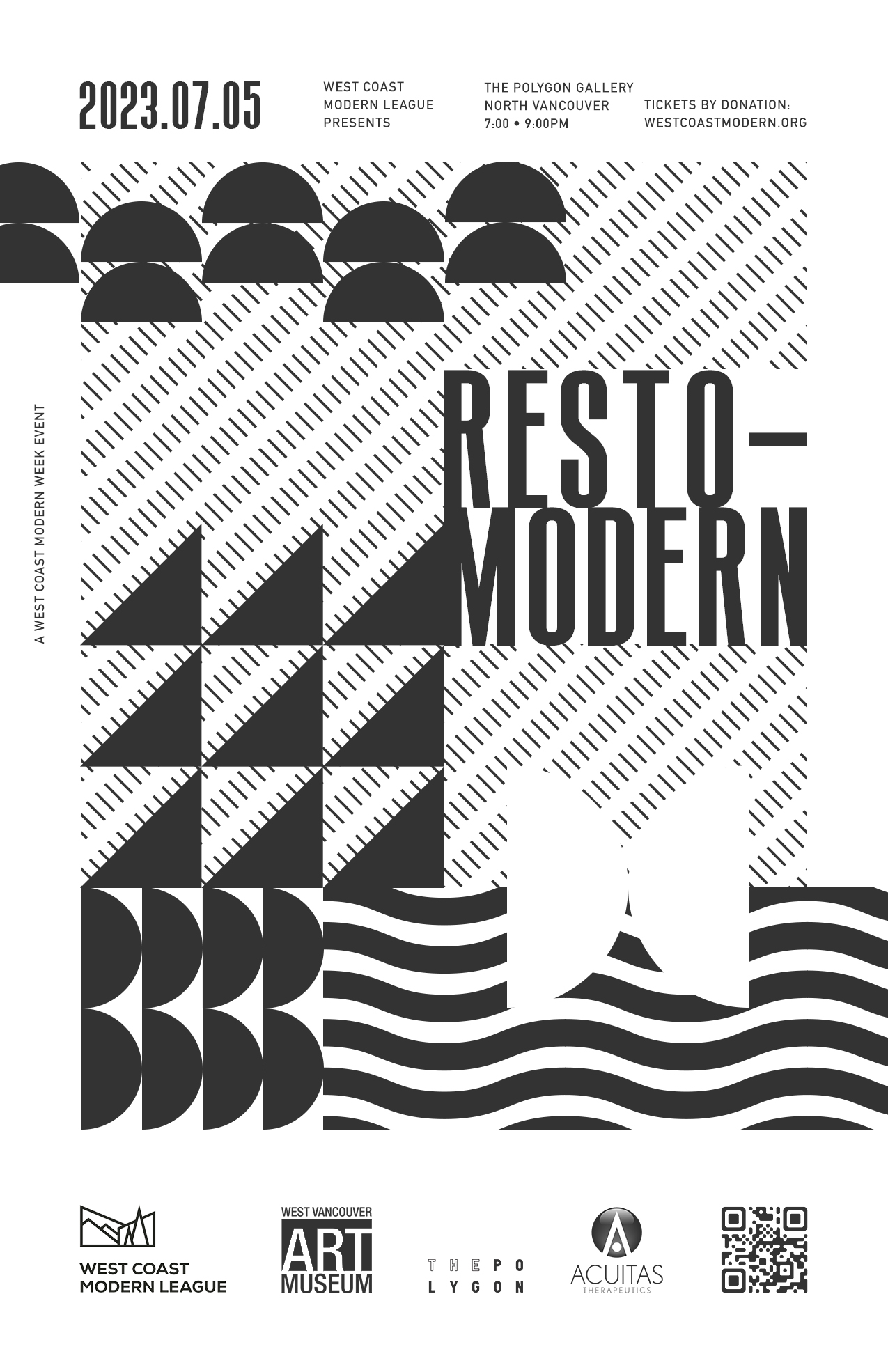 ---
About West Coast Modern Week
West Coast Modern Week
From July 4 to 9, 2023, West Coast Modern Week celebrates West Coast Modernism, a distinct architectural style with deep roots in West Vancouver. Surrounded by forested mountains, an expansive ocean, and a lush rainforest, this natural setting presents unique challenges and opportunities that are reflected in the local architecture. Presented by the West Vancouver Art Museum, West Coast Modern Week's events include talks, exhibitions, parties, and a unique Home Tour offering access to local, architecturally-significant homes. For other West Coast Modern Week events, please visit:
WEST COAST MODERN WEEK