Architecture and the City: Tall Vancouver Tales
Join the Museum of Vancouver with the Royal Architectural Institute of Canada–BC Chapter this fall for the first instalment of the new Architecture & the City series with guest speaker Donald Luxton. Guided by the series' theme, Tall Vancouver Buildings, this talk will focus on two projects in particular – Beach Towers by CBK Van Norman, and the Electra by Thompson Berwick Pratt.
The series is part of a larger micro-exhibition project set to launch in Early 2022. This exhibit will showcase the immediate past, present, and future of the residential tall building in Vancouver. Featuring the tall building as a vehicle for providing the city's unique urbanity, with discussions of how this building typology might provide a way out of our affordable housing crisis, with presentations by some of the leading architects and planners who have helped to shape Vancouver's skyline.
Meet the Speaker
Donald Luxton was born and raised in Vancouver, and has a passionate interest in local history and heritage. He is one of British Columbia's strongest heritage conservation advocates and is considered one of Canada's foremost heritage consultants. Involved in the field of heritage and cultural resource management since 1983, he is a well-known consultant, advocate, educator and author, and has worked on numerous projects throughout western Canada, including municipal heritage planning projects, the restoration of residential, commercial, and institutional buildings, and the development of museums and cultural facilities. He is active in the field of public education through the teaching of heritage conservation courses, and is the author of numerous publications, including co-author of Lions Gate, which won numerous literary and heritage awards. Building the West: The Early Architects of British Columbia was awarded the Heritage Canada Achievement Award in 2003 and a BC Book Prize in 2004. His interest in the preservation of architecture has led to his continuing involvement with a number of heritage societies, including his role as a founding Director of the Victoria Heritage Foundation, as a former Director of the Vancouver Heritage Foundation, as President of Heritage Vancouver from 2004-13, and as a current Director of the Arthur Erickson Foundation. In 2007, he was elected to the College of Fellows of the Royal Architectural Institute of Canada, and in 2009 he was the recipient of the British Columbia Heritage Award. In 2020, Donald was accepted as a PhD candidate at the University of Exeter.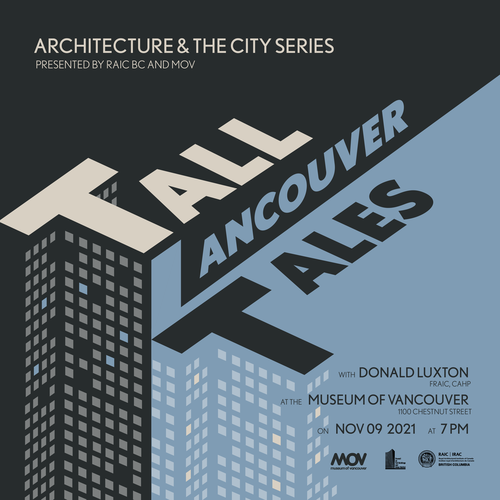 Event Details
Architecture and the City: Tall Vancouver Tales
November 9, 2021 – 7:00pm PT
Museum of Vancouver
1100 Chestnut Street, Vancouver, BC
Presented by the Museum of Vancouver
in association with Royal Architectural Institute of Canada–BC Chapter

Ticket includes FREE admission to our feature exhibitions Boarder X, That Which Sustains Us, A Seat at the Table, Neon Vancouver Ugly Vancouver, and c??sna??m, the city before the city. Consider arriving early with your event ticket to view the exhibitions!
Register Here