Boyd House, 1954
Boyd House, 1954
West Vancouver, BC
Designed by Ron Thom
Renovations by John Keith-King Architects with Russell Hollingsworth, 1977
Of Heritage Value on the West Vancouver Community Heritage Register
Proposal for a Heritage Revitalization Agreement
Last updated January 13, 2020
Boyd House was a 1954 "midnight special" design of Ron Thom for art school classmates Joan and Bruce Boyd. Using inexpensive, readily-available materials, Boyd House was constructed of cinder block, tongue-and-groove cedar, glass, and ox blood coloured concrete floors. Of particular interest to a young Paul Merrick, Boyd House continues to stand as a testament to the artful, experimental, often inexpensively built, organic and seemlessly rooted nature of West Coast Modern architecture.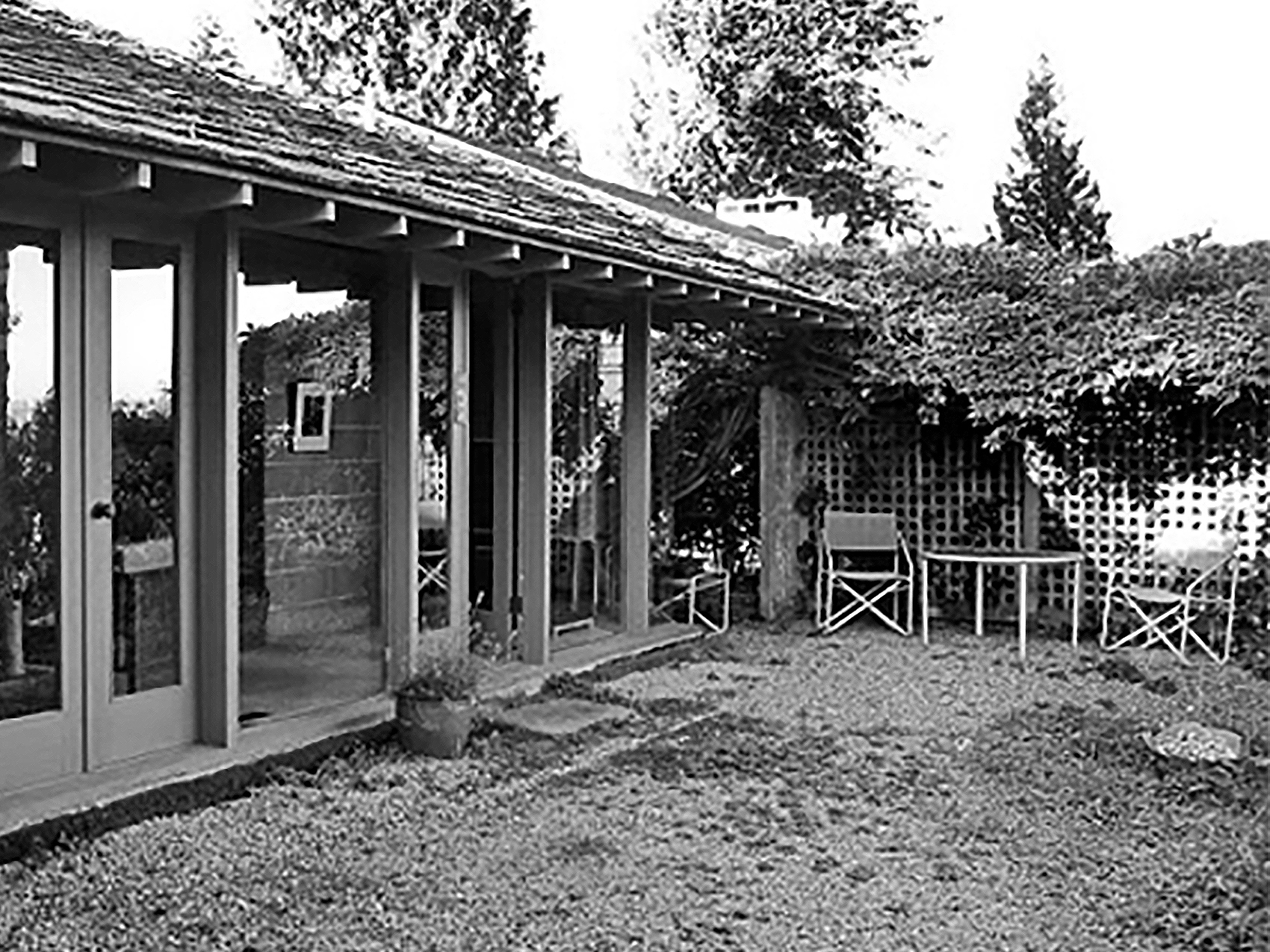 Proposal for a Heritage Revitalization Agreement (HRA)
There is a Heritage Revitalization Agreement proposed on the Boyd House. The proposal seeks to maintain and protect the existing house in exchange for subdivision of the property, an additional residence on the southern portion of the site, and vehicular access to the new lot from Duchess Avenue.
Proposal Details: https://westvancouver.ca/home-building-property/planning/major-applications/the-boyd-house-985-duchess-avenue
League's Statement on HRA Proposal
January 13, 2020
The West Coast Modern League is supportive in principle of the Heritage Revitalization Agreement (HRA) proposed on the Boyd House, and of the provision to allow short-term rental of the heritage home. We are appreciative of the efforts to save this exemplar of West Vancouver's West Coast Modern architectural heritage and urge Council to support this proposal.
The 1954 Boyd House was designed by Ron Thom for his friends and Vancouver Art School classmates Bruce and Joan Boyd. The house is a prime example of the architect's early domestic architecture. For a young Paul Merrick, as a teenager living with his family in West Vancouver, the building of the house served as a prime inspiration in his decision to pursue a career in architecture.
The Boyd House is modest but significant in its careful integration into the sloped site, a defining characteristic of Ron Thom's approach. It also exemplifies West Coast Modern architecture in its use of exposed post-and-beam construction, south-facing window wall, seamless "butt-joint" windows in place of conventional mullions, and unadorned local materials such as clear unpainted tongue-andgroove cedar and cedar-shake roof. Embedded in its cinder block wall is a massive fireplace, whose concrete frieze features a unique bas-relief design, also characteristic of Thom's embedding of art within architecture. A continuous band of cedar runs above door height, visually uniting the interior.
For many years, the house was owned by writer Kerry McPhedran, whose careful stewardship and updates, which included a contemporary kitchen and skylights, worked to retain the full character of the house. McPhedron's 1990 Western Living article "Living with Ron Thom," a tribute to the house, won a Western Magazine Gold Medal. We understand the concern over the embedded request to allow short-term rentals of the Boyd House.
We acknowledge that unregulated and rampant short-term rentals have created difficult challenges in municipalities across the region. We feel, however, that this proposal has the potential to be an example of how a highly selective and restricted rental programme can benefit both heritage conservation and community vitality.
Sincerely,
Steve Gairns (Chair), Adele Weder, Chelsea Louise Grant, Geoffrey Massey, Jeanette Langmann, John Patkau, Kiriko Watanabe, Wendi Campbell
Board of Directors, West Coast Modern League
Current Status
January 13, 2020: A public hearing on the proposed Heritage Revitalization Agreement on the Boyd House will be held at 6:00pm in the West Vancouver Municipal Hall Council Chamber.
January 8, 2020: The applicant will host a public information session to review details of their proposal for the Boyd House. Members of the public are invited to attend. 4:00pm to 6:00pm at the West Vancouver Community Centre, Arbutus Studio (2121 Marine Drive, West Vancouver).
December 2, 2019: The HRA and Heritage Designation were given first reading by West Vancouver Council. Council scheduled a Public Hearing for January 13, 2020 to allow for public input. The proponents will hold a Public Information Meeting the week prior on January 8, 2020.
April 16, 2019: The West Vancouver Heritage Advisory Committee recommended support of the HRA proposal subject to the review of several items with District Staff.
October 17, 2018: The District of West Vancouver has received a preliminary application for a Heritage Revitalization Agreement (HRA) on the Boyd House, a 1954 Ron Thom original. In exchange for heritage designation and conservation, the HRA proposes to authorize subdivision of the property to allow for of a new single family residence.
Application Details: