Woyat-Bowie Building, 1966
Woyat–Bowie Building, 1966
West Vancouver, BC
Designed by Fred Hollingsworth & Barry Downs
Primary Building on the West Vancouver Survey of Significant Architecture (1945-75)
West Vancouver Community Heritage Register (2019)
PLACES: Woyat-Bowie Building
Proposal for Development & Heritage Designation
Last update December 15, 2021
Constructed in 1966, the Woyat-Bowie Building is a low-slung, one-storey commercial structure designed by architects Fred Hollingsworth and Barry Downs. The building, an early example of West Coast Modernism in a commercial structure, albeit at a residential scale, was originally commissioned and designed to house medical/dental practices for Drs. Woyat & Bowie, and studios for the architects. Hollingsworth and Downs practiced in partnership from 1963-1967, designing many notable buildings across the region. Following dissolution of the partnership, Fred Hollingsworth would continue to work out of the building before eventually relocating his studio to a private residence.
The design of the Woyat-Bowie Building drew inspiration from the work of Frank Lloyd Wright, along with principles of organic planning, Japanese architecture, and the integration of the interior with its surroundings. Viewed from the street, the building presents as two, solid, stucco-clad wings painted in white, joined in the center by a cedar-clad monitor roof hovering over a full-height glass entryway. Bounded on two sides by public roads, the design turns the inhabitant's attention away from the street, as does much of West Coast Modernist architecture, instead pulling the focus of each of the offices towards a series of interior courtyards. The building projects a quiet presence with clean, beautifully detailed, simple forms.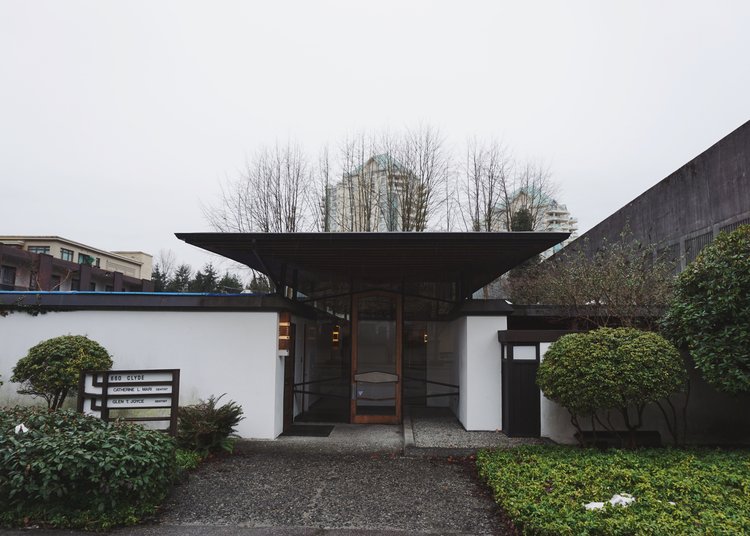 Proposal for Rezoning and Heritage Designation
The District of West Vancouver considered a proposal to rezone several properties surrounding the Woyat-Bowie Building in order to allow for construction of an 8-storey apartment building containing 89 residential units. Along with the rezoning was a proposal to designate the Woyat-Bowie as a municipal heritage resource, ensuring its continued protection and maintenance, and to provide for commercial and office spaces for the overall development.
Support the Designation of this Landmark
If you wish to lend your input on the proposal development and heritage designation, the District of West Vancouver is seeking public comment via written submissions or participation in the Public Hearing.
Email your comments to [email protected]
League's Statement on Heritage Designation
October 19, 2021
VANCOUVER: The West Coast Modern League is supportive in principle of the proposal to legally protect the "Woyat­–Bowie Building" in exchange for the rezoning and mixed-use development sought by the proponent. We are appreciative of the efforts that have been taken thus far to restore the integrity of this exemplar of West Coast Modern architecture, and of the sensitivity that has been given to the architects' original vision. We urge Council to support this proposal.
The 1966 Woyat–Bowie Building is a modest commercial structure designed by architects Fred Hollingsworth and Barry Downs, commissioned by Drs. Woyat and Bowie to house dental and medical practices. It is an early example of West Coast Modernism, which has largely been a domiciliary movement, translated into a commercial structure, albeit at a residential scale. The building is also notable for becoming the creative backdrop to some of our most renowned architects.
In addition to health care offices, the building served as a studio for its architects, who had practiced together since 1963 and were in search of new offices. While their partnership ceased in 1967, Fred Hollingsworth continued to work out of the building creating some of his most celebrated designs, many of which are now recognized as heritage assets on the North Shore. Distinguished architect Russell Hollingsworth also recalls working in this studio alongside his father for about 15 years, and being joined by celebrated architect Arthur Müdry, who ran his own practice but often informally shared in creative deliberations.
Designed on a shoestring budget, the building is modest in form and materiality, but innovative in its planning and detailing, emblematic of Hollingsworth's and Down's idiosyncratic takes on West Coast Modernism. Bounded by busy public roads and parking lots, the design sought to provide a calming atmosphere by turning inwards. Wrapped in a solid perimeter wall, the interiors were divided into quadrants, each with an adjoining outdoor walled garden that Russell Hollingsworth remembers being lushly planted with ferns and bamboo and flooded with natural light. Along the spine of the building, a cedar-clad monitor roof, set atop bands of clerestory windows and a full-height, obliquely divided, glazed entry, combined with the gardens to allow for natural light to pierce deeply into the building and create an airiness to the structure.
While quiet and reserved, the Woyat–Bowie Building is a striking example of our West Coast Modern architectural heritage. Its protection is of significant benefit to the collective good of the community and its future generations.
Current Status
December 15, 2021: District of West Vancouver Council adopted Heritage Designation Bylaw No. 5031, 2019 which provides for legal protection of the Woyat-Bowie Building.
October 20, 2021: Following the October 19th Public Hearing, District of West Vancouver Council gave the proposed bylaws second and third readings. Once the following conditions are met, the bylaws and Development Permit will be scheduled for approval by Council.
Ministry of Transportation and Infrastructure Approval on the rezoning bylaw
Payment of the voluntary Community Amendment Contribution (CAC)
Registration of the Development Covenant at the Land Titles Office
October 10, 2021: The District of West Vancouver will hold a Public Hearing on October 19, 2021 at 6:00pm, in order to consider public comments on the proposal for rezoning and heritage designation of the Woyat-Bowie Building. Notice of Public Hearing / Watch Online.
Sources
West Vancouver Survey of Significant Architecture 1945-1975. F.G. Architecture & Planning Consultants. District of West Vancouver, 1994.
Statement of Significance. John Atkins History & Research.