Remembering Étienne Gaboury, 1930–2022
VANCOUVER: His buildings are nothing short of iconic, wholly unique works of art, and he is regarded as perhaps one of Manitoba's greatest architects. Étienne Gaboury, known as the "Father of Landmarks," passed away in Winnipeg on October 14th at the age of 92. In a career spanning six decades, and a body of work encompassing over 300 built projects, in Canada and internationally, Étienne's design philosophy was deeply rooted in a fascination and emotional attachment to the natural environment, "in all its beauty, complexity, mystery, majesty,"[1] along with an interest in the emotional and spiritual elements of place, and a belief in the regional and cultural reflection of a building. He leaves an incredibly rich legacy of poetic, deeply experiential, awe-inspiring, organic design that we will take as inspiration for generations to come. The West Coast Modern League offers our heartfelt condolences to his family and friends, and we join many others in the prairies, across Canada, and indeed around the world, in celebrating his profound impact on our built environment.
Étienne–Joseph Gaboury was born in Bruxelles, Manitoba, in 1930, to French-Canadian farmers with Métis heritage, with a distant relation to Louis Riel, and was raised on a farm in Swan Lake, Manitoba, along with his 10 siblings. Étienne first took up undergraduate studies at the Collège de St. Boniface, graduating with a Bachelor of Arts in Latin–Philosophy in 1953, followed by a Bachelor of Architecture from the University of Manitoba in 1958, and a 1-year post-graduate fellowship at the École des Beaux-Arts in Paris. During this time, he would visit Le Corbusier's 1954 Chapel of Notre Dame du Haut in Ronchamp, the idiosyncratic, provocatively modern experience of which is said to have been deeply spiritual and profoundly influential to his design sensibilities.[2]
Upon his return to Winnipeg, Étienne Gaboury embarked on what would become an illustrious career in architecture, designing some of Manitoba's most respected and idiosyncratic structures. The first phase of his career was spent in partnership with architects Dennis Lussier and Frank Sigurdson but would end in 1976 with Gaboury becoming sole principal. Notable projects amongst his extensive body of work includes the St. Louis le Roi (1961), Holy Family Church (1965), Louis Riel Arts and Technology Centre (1968), the St. Boniface Basilica (1972), the Royal Canadian Mint (1975), the Nelson House School (1986), and the Provencher Bridge and Esplanade Riel (2004). Among his most recognizable buildings is the Église Précieux-Sang (Precious Blood Church) (1968), an incredible structure of double spiral wooden beams reaching towards and oculus, once described by noted West Coast Modernist Ron Thom as "an outstanding example of Canadian regionalism." Further afield, Gaboury would design the Canadian Embassy in Mexico City (1982) and a Abijan Centre School in Ivory Coast.
Étienne Gaboury's achievements were recognized numerously over the course of his long career, with a Vicent Massey Award for Excellence in the Urban Environment (1971), Heritage Canada Awards (1985 and 1988), Honorary Doctor of Laws from the Université de Saint-Boniface (1987) and University of Manitoba (2009), American Institute of Architects Award (1997), a Distinguished Practice Award, Faculty of Architecture, University of Manitoba (2009), as well as appointments to the Order of Canada (2010) and the Order of Manitoba (2012).
Étienne Joseph Gaboury
April 24, 1930 – October 14, 2022
Étienne J. Gaboury | Winnipeg Architecture Foundation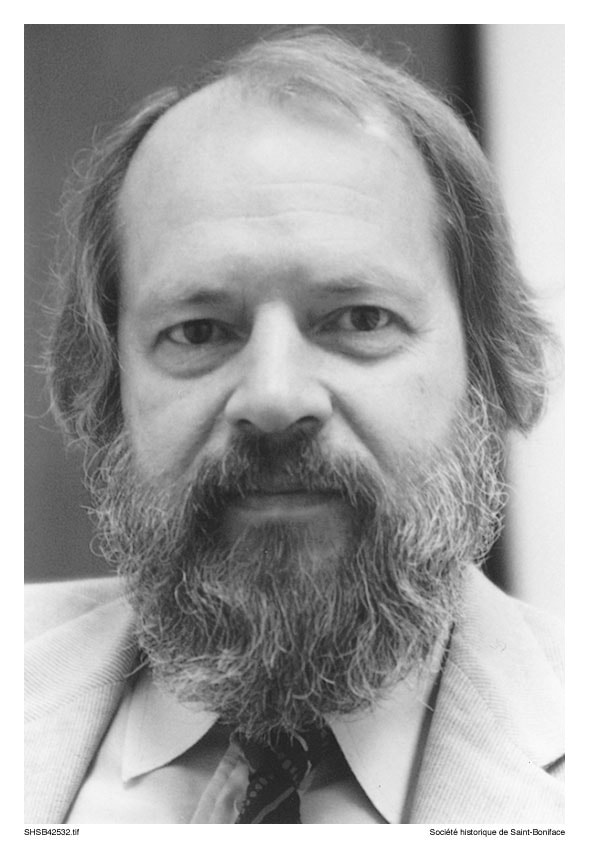 [1] Fortin, D. (2015). Conversations: Étienne Gaboury. The Métis Architect.
[2] Étienne J. Gaboury. Winnipeg Architecture Foundation.
In Memoriam