Remembering Cornelia Hahn Oberlander, 1921–2021
We join so many in our community and further afield who are mourning the passing of the incomparable Cornelia Hahn Oberlander, just short of what would have been her centenary on June 20th. Cornelia is Canada's most renowned and celebrated Landscape Architect, a visionary, a trailblazer in her discipline, a beacon and an inspiration to generations past, present, and future, and a legend for her immeasurable contributions to the built environment and to her profession. Known for her kind and generous spirit, her love of nature and adventure, her tireless research, significant and timeless body of work, and her belief that natural outdoor spaces should be available to all, Cornelia not only created some of our most celebrated landscapes around the world but was a generous mentor who shared her learnings with so many budding designers. What Cornelia was able to accomplish in her over 70-year career is nothing short of extraordinary, and we are all the better for it.
"Landscape architecture is the art and the science of the possible." – Cornelia Hahn Oberlander
The outpouring of sympathies, memories, and anecdotes that we have all seen over the past few days is a testament to the influence, whether direct or indirect, that she has had on countless people around the world. It is incumbent upon us to carry forward all that she has taught us.
The West Coast Modern League offers our deepest condolences to her family, friends, to those who were close to her, and to everyone who has felt the impact of Cornelia Hahn Oberlander.
Cornelia Hahn Oberlander
June 20, 2021 – May 22, 2021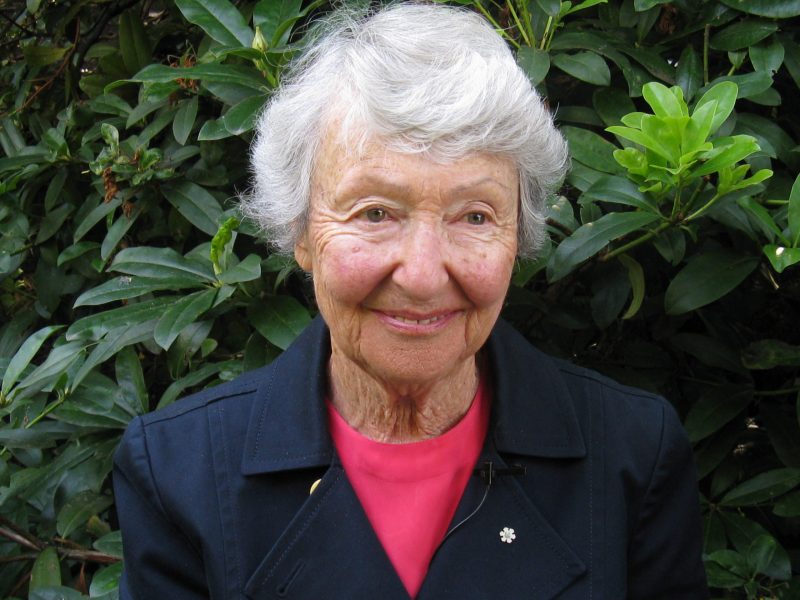 Landscape Architect. Trailblazer. Visionary.
Cornelia Hahn Oberlander was born on June 20, 1921 in Mülheim an der Ruhr, Germany. Narrowly escaping the atrocities of Nazi persecution, she fled Germany with her family in 1938, immigrating to the United States with her sister and mother, Beate Hahn, a horticulturalist. Her father, who had been an engineer, had died several years earlier caught in an avalanche while skiing.
Cornelia proclaimed that she knew at age 11 that she wanted to be a Landscape Architect, a path she formally embarked on once settled in North America. In 1944, Cornelia graduated from Smith College in Northampton, Massachusetts, and went on to study landscape architecture at the Harvard Graduate School of Design in Cambridge – one of the first female students to attend Harvard GSD and the first, in 1947, to graduate with a degree in landscape architecture. It during this time, and in the immediate years following, that she would study with Walter Gropius, the founder of the Bauhaus School and Chair of the Department of Architecture at Harvard GSD, and work with the likes of architects Oscar Stonorov and Louis Kahn, and landscape architect Dan Kiley, among others. She would also meet her late husband, celebrated architect and planner, Heinz Peter Oberlander.
By 1953, Cornelia and Peter both relocated to the west coast, settling in Vancouver, British Columbia. Peter would take up a position as the Founding Director of Canada's first professional School of Community and Regional Planning at the University of British Columbia, while Cornelia would establish her eponymous, and widely celebrated, landscape architecture practice. Both highly active in their professions and broader communities, they also raised three children, Judy, Tim, and Wendy.
Cornelia practiced landscape architecture with one goal in mind: "to design outdoor spaces for the enjoyment of all in our urban environment."[1]  Over the course of her illustrious seven decade career, Cornelia explored a broad range of programs, from small but impactful interventions, to large urban-scale developments. Completing over 350 projects, her contributions included urban parks, children's playgrounds, cultural spaces, social housing projects, and private residences, among others. A key pioneering figure in the development of West Coast Modernism, some of her most notable landscapes include the Provincial Law Courts and Robson Square (with Arthur Erickson Architects, 1973-1984), the Museum of Anthropology at UBC (with Arthur Erickson Architects, 1976), Eppich House II (with Arthur Erickson Architects, 1983), the Vancouver Public Library Central Branch (with Moshe Safdie Architects, 1995), the Visitor's Centre Rooftop, VanDusen Botanical Garden (with Perkins and Will, 2011), and the C.K. Choi Building at UBC (with Matsuzaki/ Wright Architects, 1996). Further afield, she was responsible for landscape designs at the Children's Creative Centre Playground, Canadian Federal Pavilion, Expo 67 in Montreal (1967), the Canadian Chancery in Washington, DC (with Arthur Erickson Architects, 1989), the National Gallery of Canada in Ottawa (with Moshe Safdie Architects, 1990), the Northwest Territories Legislative Building in Yellowknife (with Matsuzaki/ Wright Architects, 1994), and the New York Times Atrium in New York City (with Renzo Piano and HM White Site Architects, 2002).
Internationally acclaimed in the field of landscape architecture, Cornelia was named a Companion of the Order of Canada, Member of the Order of British Columbia, and Fellow of both the Canadian Society of Landscape Architects and the American Society of Landscape Architects, among numerous other honours. In 2015, she received the Margolese National Design for Living Prize, from the School of Architecture and Landscape Architecture at the University of British Columbia. A few days prior to her passing, she was bestowed the prestigious Freedom of the City Award by her hometown, the City of Vancouver, and the year 2021 will see the inaugural awarding of the $100,000 biannual Cornelia Hahn Oberlander International Landscape Architecture Prize, by The Cultural Landscape Foundation.
With a design process regarded for intensive research, innovation, and stewardship for the natural environment, Cornelia's impact in the realms of landscape architecture is far reaching and unparalleled. She leaves a mark on the profession and the collective experience of our built environment that will remain for generations to come.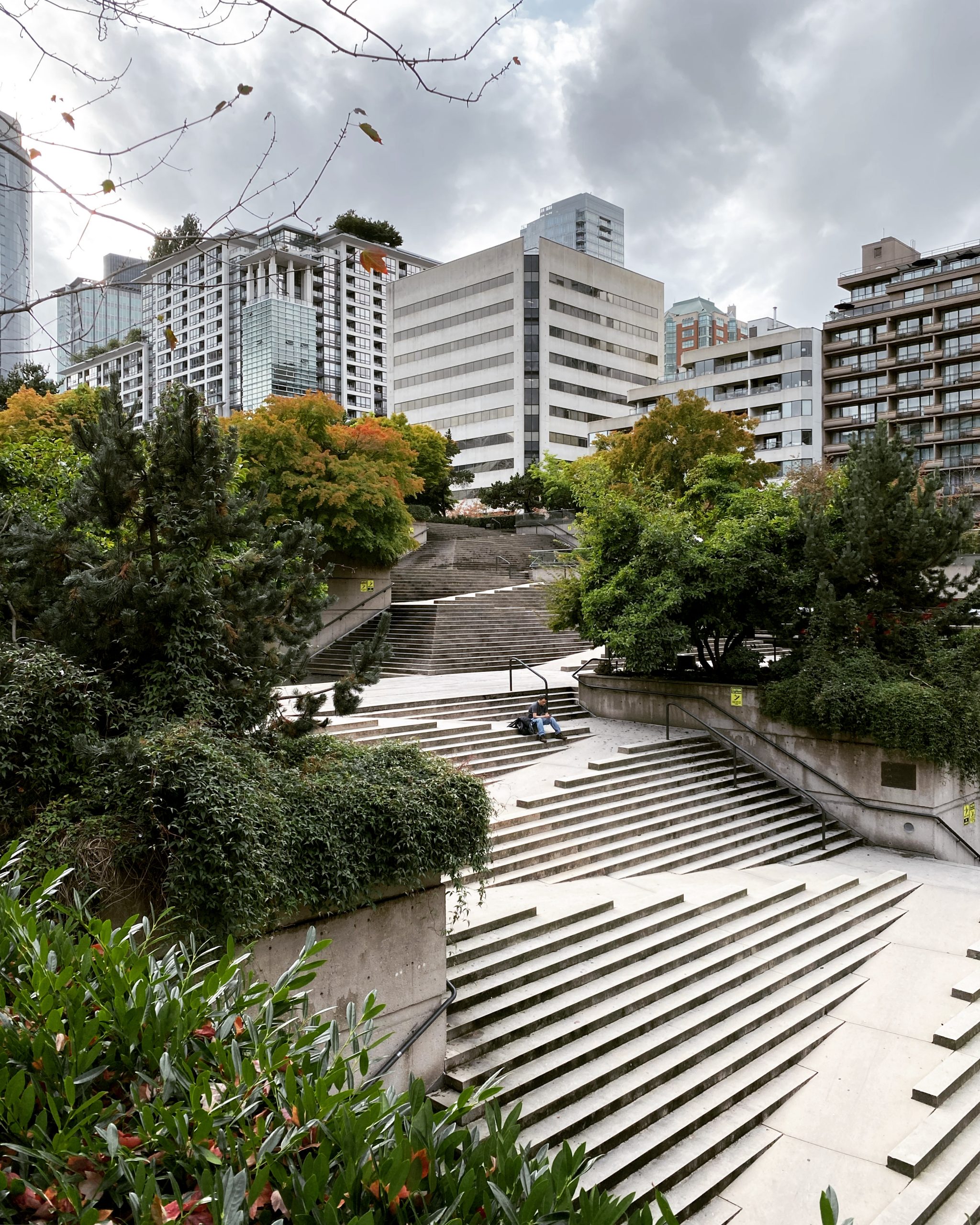 "I dream of Green Cities with Green Buildings where rural and urban activities live in harmony. This means community gardens, urban forests, river parks, nature reserves, woodlands, and usable Green Roofs. It means the application of old and new environmental technologies to purify wastewater, and restore waste sites with plants. It means collaboration among professionals and between the professions and industry so that building and site become one and the city fits the region. "Achieving a fit" between the built form and the land has been my dictum. This can only be done if all our design-related professions collaborate and thereby demonstrate co-operatively their relevance in meeting the enormous developmental challenges facing our increasingly crowded urban regions." – Cornelia Hahn Oberlander[2]
[1] Oberlander, C.H. (2021). Forging the Way. In Cornelia Hahn Oberlander: Genius Loci (pp. 14-18). West Vancouver, BC: West Vancouver Art Museum. Edmonton, AB: The Art Gallery of Alberta.
[2] Oberlander, C.H. (2002). SFU Honourary Degree Recipients Convocation Addresses. Simon Fraser University.
[/nor_columns][/nor_column_wrap]