Remembering Roger Kemble, 1929-2023
VANCOUVER: When domestic modernism was at its peak of experimentation on BC's south coast, with a proclivity towards the use of natural, organic materials, and an architectural subdue set against the west coast landscape, architect Roger Kemble emerged with a spirited voice that would set apart his designs from his West Coast contemporaries. While his early residential works are said to have been imbued with similar influences to that of West Coast Modernism, Kemble set out on a "voyage of discovery," early in his career, that would produce a series of unique and nationally celebrated modern houses, which he would call his "coloured boxes," that broke from the regional expression of modernism towards more universal principles. While his homes were oft described within the context of the West Coast "style," he would later declare that he had never seen himself to be a part of the West Coast movement.[1]
In a November 2002 article, Kemble was described as "a counter-culture radical on Vancouver's architecture scene in the 1960s and 70s, as well-known for his boldly controversial views on the practice of architecture as he was for his often startling houses."[2] While his contributions packed a punch, Kemble himself found this characterization difficult to swallow, exclaiming that he "found it extremely difficult to square with my circumstances at the time: four kids, two cars, and a house in West Vancouver. Some radical!" Same too for those "coloured boxes," which he stated "followed good West Coast stick-built frame construction using local materials, taking advantage of every hidden strength. Indeed, my purpose was to introduce gently on nature, enclosing the most livable space by economically disposing materials," and "the bright colours were textbook: Chevreul's 'De la loi du contraste simultané des couleurs'  (1839) to be precise."
Roger Kemble passed away peacefully in Nanaimo on July 24th at the age of 94. As much a visual artist as he was an architect, an urban planner, architectural activist, educator, and author, Roger's impact on West Coast architecture, urbanism, and the allied arts is broad and wholly unique. The West Coast Modern League offers our heartfelt condolences to his family and friends, and we join with many across the country in celebrating his contributions.
A direct descendant of the illustrious family of English actors, Roger Ian Kemble was born July 4, 1929, in Hull, England. As a young student, he would attend Saint Peter's School, York, which he pointed out was previously attended by Guy Fawkes, conspirator of the 1605 Gunpowder Plot. His schooling somewhat interrupted during the Second World War; he was a reluctant sailor with the Royal Navy.[3] In 1950, Roger immigrated to Canada, eventually settling in Victoria, British Columbia. Soon after he would marry Adrienne Marjorie Taylor and start a family that would come to include four children.
By 1960, Roger Kemble would open his own firm, embarking on what would become an award-winning architectural practice, including a Massey Silver Medal (1964) and a National Canadian Housing Design Council award (1964). His early works were focused on Japanese-inspired residences, not dissimilar from his West Coast contemporaries. However, in the late 1960s, Roger's design philosophy would change course, refocusing his efforts in domestic architecture and towards a growing interest in urban design. It was at this time that he would design his series of "coloured box" houses in Vancouver and on the North Shore, projects that would garner attention both locally and with national audiences. Exploring the use of plywood as both a sheathing membrane and structural stressed skin, coated in a neoprene hypalon sealer, and finished in a vibrant palette of blues, reds, and yellows, among others, these homes were radically different from the predominant ideas of modern west coast design. Now demolished and/or significantly altered, these early homes included the Milne House (1967), Gray House (1970), and Culhane House (1974), among others.
In 1983, Roger wrote that "unfortunately, I have, until recently, been dubbed a residential architect. It came about simply because an opportunity was never presented to do anything else. I have tried hard to dislodge this image; I suspect I am about to succeed."[1] From 1984-86, he would study urban planning at the School of Community and Regional Planning at the University of British Columbia. He would go on to research and publish extensively on the issues of urban design, through an architectural lens, adopting at one point what he coined the "Principle of Sustained Interest," or an approach to the design of architecture and urban spaces from the perception of the pedestrian. In 1989, he would publish The Canadian City: St. John's to Victoria, a critical survey and commentary exploring urban design issues across sixteen Canadian cities.
Beyond his love for design, Roger Kemble leaves the legacy of an absolute creative who was engaged in a broad array of artistic mediums from written word, to painting, and illustration.
Roger Ian Kemble
July 4, 1929 – July 24, 2023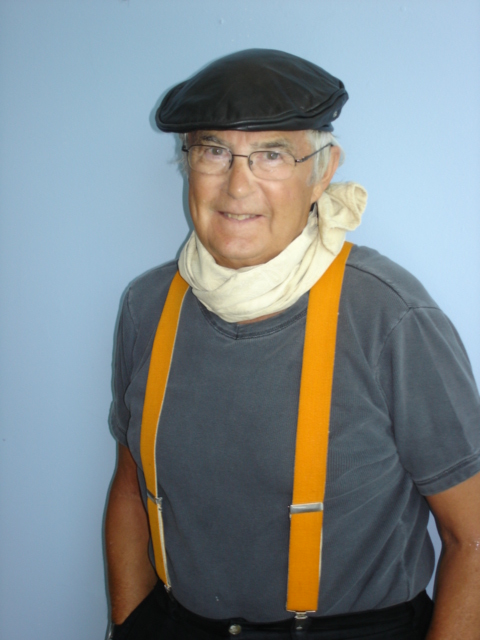 Sources
Kemble, R. Western Canadian Approaches. The Fifth Column, Vol. 3, No. 3/4 (1983): A Canadian Architecture.
Moffat, R. Roger Kemble's colourful iconoclasm. Heritage Vancouver Newsletter, Vol. 11, No. 9 (November 2002). Heritage Vancouver.
Roger Kemble Personal Archives.
In Memoriam
Featured Projects