Remembering Barry Downs, 1930-2022
VANCOUVER: Earlier this summer marked the passing of one of our last remaining pioneers of West Coast Modernism. A loss felt across the country, Barry Vance Downs, a legendary and devoted architect, known for his gentle and generous nature, died on July 19th at the age of 92. Barry's deep respect for the natural environment, his dedication to supporting the community and to celebrating our region's legacy of design excellence, has had a deep and immeasurable impact on our built environment, and on current and, no doubt, future generations of designers. We are grateful for Barry's insight, guidance, and friendship. The West Coast Modern League offers our heartfelt condolences to his family, friends, and those who have mourned in recognition of his extraordinary legacy of modern west coast architecture.
"To me, it's all to do with emotion, and you derive that from the building and its setting. The focus for me has always been the landscape, the garden, the seasonal world." – Barry Downs [1]
Barry Downs was born June 19, 1930 in Vancouver. He studied architecture in Seattle, graduating from the University of Washington in 1954. From there, he apprenticed with the Vancouver firm of Thompson, Berwick & Pratt (TBP), working as part of the design team for a number of houses, as well as, landmark projects including Ron Thom's Massey College and Roy Jessiman's Frederic Wood Theatre. In 1955, he married Mary Hunter Stewart, who remained a stalwart support throughout his career and life.
Although a devout modernist, Barry brought a strong appreciation for nature, art and organic form to his work at TBP. His remarkable talent not only in architecture but also in drawing and watercolours quickly became apparent, and in the ensuing years, he honed his reputation from such distinctive houses as the 1957 Phillips House in West Vancouver, his own family home in the Dunbar neighbourhood of Vancouver a year later, and the 1960 Chow House, with Blair Macdonald, in North Vancouver.
At various times throughout the 1960s, he lectured with colleagues Arthur Erickson and Bud Wood at the UBC School of Architecture. He formed a practice with Fred Hollingsworth from 1963-1967, and by the end of the decade had set up his own practice with Richard Archambault. Barry continued his distinctive work with projects such as Oberlander House II and Pearson College of the Pacific (with Ron Thom and Cornelia Oberlander), the 1974 North Vancouver Civic Centre, the 1979 Downs House II and 1989 Canuck Place. He also was a key player in important master plans, including the 1989 Concord Pacific master plan and the 1993 Yaletown/Roundhouse plans.
Over the years, Barry worked tirelessly as an advocate for a number of local groups and committees, including the City of Vancouver Heritage Advisory Committee and the West Vancouver Planning Commission. His career and design ethos was reflected in the 2013 exhibition at the West Vancouver Art Museum, entitled "Melding Architecture with Landscape: A Collaboration in Design." In 2015, Barry was appointed a Member of the Order of Canada.
Barry Vance Downs
June 19, 1930 – July 19, 2022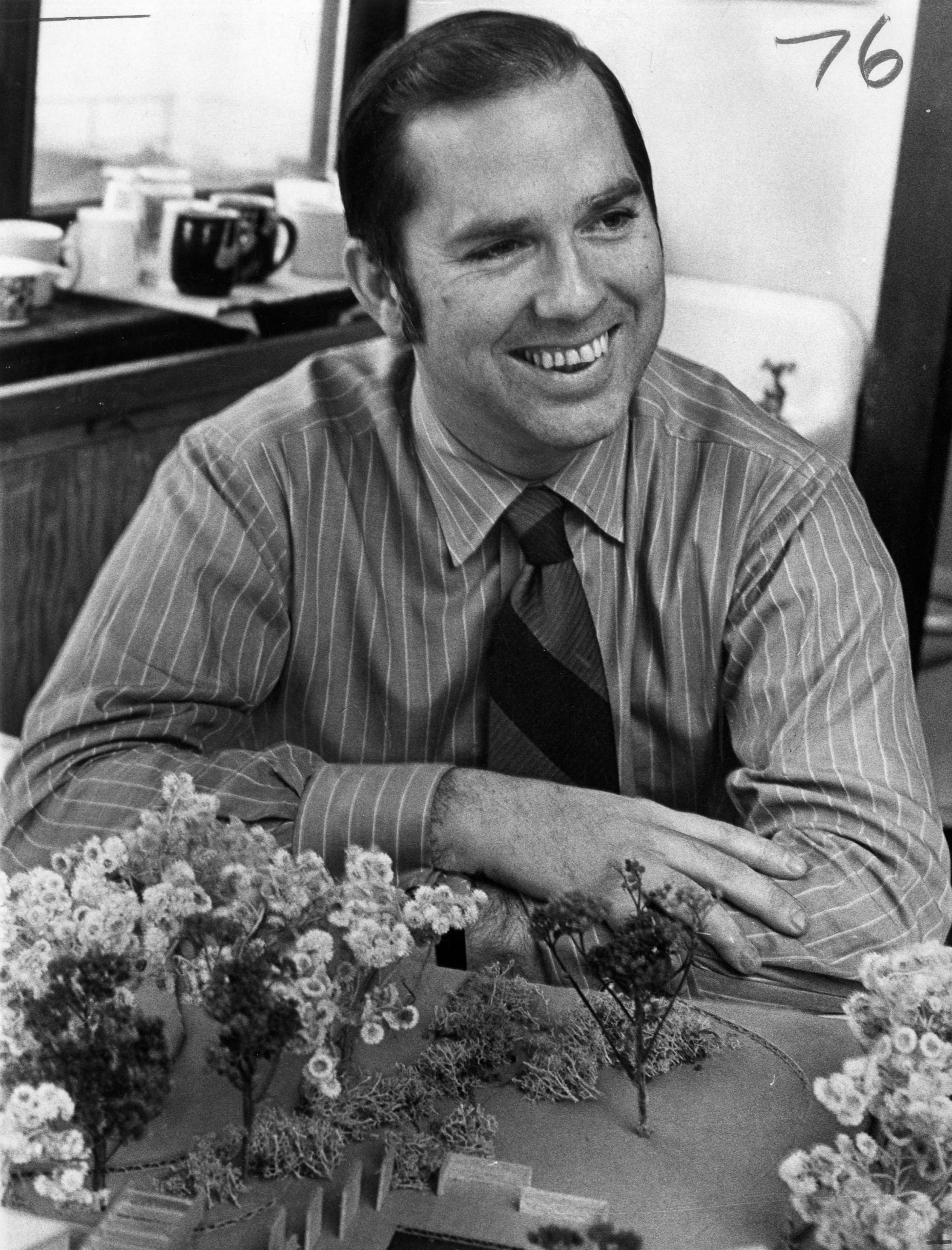 [1] West Coast Modern and Architect Barry Downs. Eve Lazarus. July 5, 2014.
In Memoriam
Select Projects