B.C. Binning House, 1941
West Vancouver, BC
Designed by B.C. Binning with consulting architects C.E. Ned Pratt and R.A.D. Berwick
B.C. Binning was a renowned B.C. artist and champion for regional architecture and design. It is this house – the house he designed himself on the slopes of West Vancouver – that is widely recognized as the first building to reflect the regional design principles that have come to define West Coast Modern architecture. It was recognized as a Municipally Designated Heritage Property in 1999 and a National Historic Site of Canada in 1997.
---
December 1, 2017
DEVELOPMENT PROPOSAL
There is currently a development application in front of the District of West Vancouver for a heritage revitalization agreement on the property. The proposal would see the house restored with some alterations in exchange for increased density allowing for a much larger garage and caretaker suite, and a new house to be built on what is now the existing terrace and yard. 
Updates:
December 1, 2017: Design Review Committee passed the following recommendations:
THAT the Design Review Committee commends the applicant for the restoration of the Binning House and that the committee recommends RESUBMISSION that addresses the following concerns:

Access to the new J House;
Volume, scale and proximity of the J House in relationship to the Binning House;
Provide a landscape plan for the entire site;
Provide details of the green roof and planting materials;
Consider the volume and sitting of the proposed new garage and caretaker suite; and
Reconsider the extent of manipulation of the landscape to accommodate the proposed driveway.
November 16, 2017: Design Review Committee considered the proposal and passed with recommendations.
April 5, 2017: Proposal submitted to the District of West Vancouver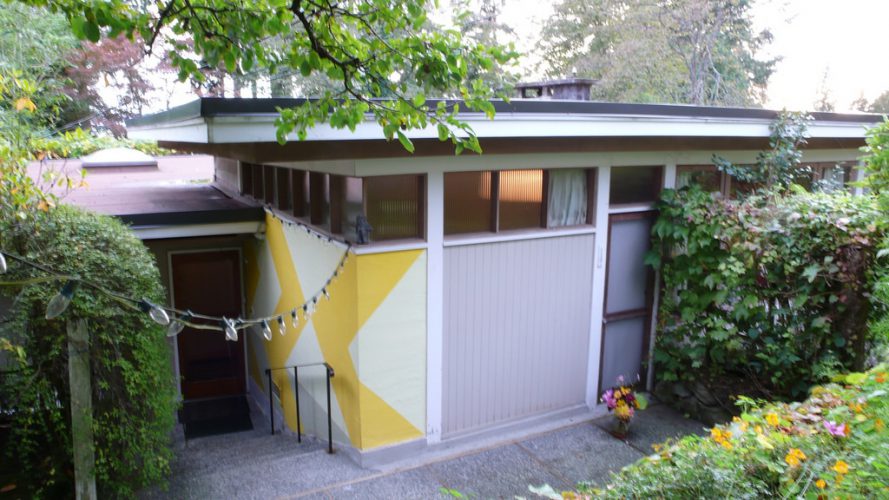 ---
July 10, 2015
STATEMENT FROM THE WEST COAST MODERN LEAGUE
ON THE IMPENDING SALE OF THE B.C. BINNING HOUSE
VANCOUVER: After a lengthy court battle, the 1941 historic B.C. Binning House has finally been sold to a private buyer and the net proceeds will go to the University of British Columbia, as per the secondary wish stated in the will of Jessie Binning. Jessie's first wish, as expressed in her will, was to have the House maintained for historic and scholarly purposes for the wider community. In the spirit of collaboration, we encourage the buyer whose own intentions honour the essence of Jessie's first wish, who is appreciative of its unique cultural and historic value, and whose own plans for the house dovetail with the following:
commitment of a minimum expenditure of $250,000 to restore the House;
intention to allow limited periodic scholarly and community access to the House.
consideration of a heritage covenant under Section 219 of the provincial Land Title Act to strengthen the current municipal protection against alteration or demolition;
Along with so many others in the community and across Canada, we are hoping that the impending sale will generate a positive outcome.
Sincerely yours,
Adele Weder, Wendi Campbell, John Patkau, Mike Bernard, Kim Smith, Gavin Froome, Cameron McLellan and Jeanette Langmann
—Board of Directors, West Coast Modern League
Phyllis Lambert, Founding Director Emeritus, Canadian Centre for Architecture, Montreal
Linda Fraser, Archivist and Chief Curator, Canadian Architectural Archives, Calgary
Cornelia Oberlander, Landscape Architect, Vancouver
—Advisors to the Board